Commercial properties in north-eastern Mallorca: an ideal location for your company
Mallorca is among others one of the most popular travel destinations for Europeans. But not only many people on holiday flock to the island every year, some decide to completely emigrate and start a new life on the Balearic Island. The island is well visited throughout the entire year and is therefore an excellent location for companies. Of course, tourism and gastronomy business are very much in demand but companies from other industries can also gain a foothhold here.
If you would like to open a branch office or found a new company, we offer the approriate commercial properties for purchase. Small shops are just as much a part of our portfolio as large office spaces. We will be happy to advise you on the right property for your project in a personal meeting
We have found no suitable offers for your request.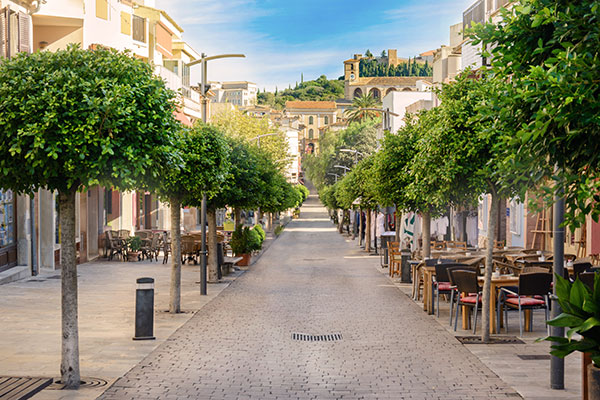 Somewhere between native farming and modern tourism
The north-eastern part of Mallorca brings together the opposing aspects of natural, wild beauty and a popular travel destination for many tourists. While Cala Ratjada in particular attracts to a large number of visitors anually, it can get very quiet and still in the mountains between Artà and Manacor. Secluded hiking trails, winding zigzagging roads and pristine nature offer a first-rate place to escape for many emigrants and natives. The lively port city, on the other hand, offers travellers variety, entertainment and night life without loosing its original charm.
Depending on the orientation of your business, the location can entail various advantages. Furthermore, you should keep in mind if your offer is to be geared towards natives or tourists or if it should be equally appealing to both groups. We can ensure cmpetent and comprehensive consultation through our know-how and familiarity with the the locations. We will work together to find the right solution and an ideal site for your needs.;
Your new start in the region around Manacor
If you would like to gain footing for your company on the island, a permanent residence is indispensable. Therefore, we not only keep commercial properties for all needs in our portfolio but also exlusive rsidential properties. Here we can offer you the widest range of residential concepts depending on your needs that leave no wish unfilled. You are guaranteed to find your dream property with us - everything from small apartments to authentic fincas and well-established houses to splended villas. Pragmatic properties with two rooms are just as much a part of our offer as impressive properties with a pool, underground garage and numerous bedrooms. You can get an intitial impression of our work by taking a look at our reference properties .
We will give our best to make your wihses come true
With our long standing experience we are the ideal partners for your proeprty sale in the north-eastern part of Mallorca. We can demonstrate our perfect familiarity with the locations and ensure you the highest possible level of know-how through our specialisation, particularly in this area. It is important to us to provide ideal support to you, not only when your are deciding on one of our properties but also during the purchase process. Moreover, we want to ensure that yu feel completely at ease with your new property. That is why we offer you our network in order to establish contact with porperty management companies, contractors or garden maintenance sevices. Our work only ends when you are holding the key in your hand are completely satisfied. Feel free to contact us for an intitial consultation appointement or a non-binding offer.