Apartments on Mallorca - to live where others spend their holiday
Mallorca is without doubt one of the favourite islands of Germans and Great Britains. Wheter is is to relax, to actively vacation or to plunge into the night life - every traveller will find exactly what he or she is looking for. Who wouldn´t like to pack up all of his or her things and permanently declare the island to be one´s new home ?
We will help you to make this long-coveted dream a reality oand offer you a large selection of gorgeeous apartments for purchase in idyllic north-easter Mallorca. Our portfolio will certainly include just the right offer for you - from a cosy two-room apartment to spacious accommodation for the whole family.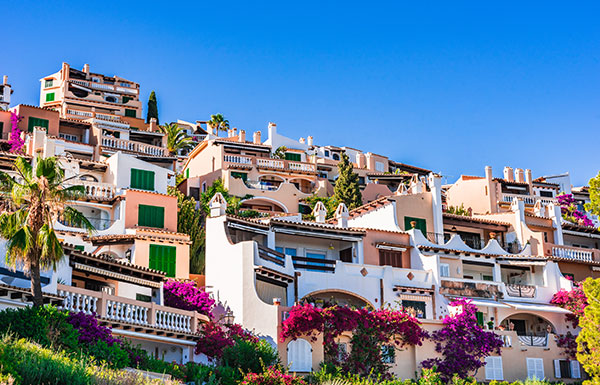 Wild, untamed and incredibly beautiful - the northeastern part of Mallorca
Like the entire island, the north-eastern region is also appealing due to its impressive variety. Dreamy romatics fall in love with the small, secluded coves straightaway while adventurers are excited about a hike in the mountains or along the rocks. You can not only buy wonderfully fresh food at the regualr weekly markets but also absorb a bit of the culture. In addition to fruit and vegetabesl sellers, manufacturers of jweellery, leather goods and art work have a permanent place here. Enthusiasts of impressive spectacles of nature are almos magically attractd to the fabled droans caves that accommedoate the largest underground lake in Europe.
Thus, the region around Artà, Capdepera, Cala Ratjada and Manacor offers just the right for each pallet and therefore immediately becomes beloved by all of its visitors and residents
The perfect choice for emigrants or occasional vacationers
Once you have experienced the rgion up close and personal, it will also entice you to a facinationg place. If you would like to take the big step and emigrate, you will surely find a perfect home in the northeastern part of Mallorca within our portfolio.
At the holiday location Cala Ratjada many emgrees also succeed in quickly getting a position a tourism or gastronomy business. If, on the other hand you are already self-employed or you would like to continue your business on Mallorca, we will be happy to recommend you one of our commercial properties for your individual project.

But if you don´t want to break all ties from home right away, you can get your own apartment between Artà, Capdepera, Cala Ratjada or also Cala Millor to create a very personal holiday paradise where you will not miss the comfortable feeling of home. In the north-eastern part of Mallorca, you have the choice of whether you would like to settle down among numerous tourists to enjoy the hustle and bustle around you or whether your senses crave more serenity and sclusion..
Residential properties as individual as you!
You enjoyed the region in the north-eastern part of the island but don´t want to move into an apartment? Then our authentic Fincas, the well-kept houses or our breath-takingVillas will certainly turn out to be a good alternative for you. For future property owners, we include amazing lovingly plots in our portfolio, where you can make your personal dreams of residential living a reality. &See for yourself how excellent our sercice is and how competent our support is. Feel free to contact us for an offer. If your would like to take a look at our work in advance, feel free to take a look at our references We look forward to hearing from you!