To buy your own property on Mallorca
A mild winter, a lovely spring and countless sunny days in the summer. Mallorca is the place many people long for who are searching for rejuvenation, relaxation and a time-out. More and more Germans & English are declaring this Balearic Island to not only be their favourite holiday site but also decide to buy a house there.
Make your Dreams a reality - with an exlusive villa in the north-eastern part of Mallorca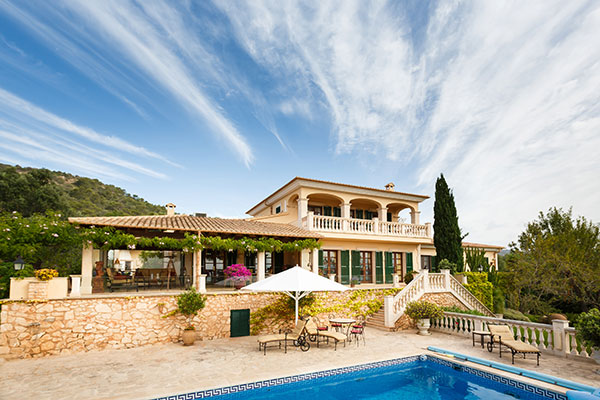 Whether you need a small finca and want to use it as a holiday home or you would like to acquire a striking villa for a permanent stay, it mainly depends which obligations you still have back home.

But it really does not matter if you are only on the island occasionally or acquire villa with the entire family and would like to emigrate - you are guaranteed to find just the right property for your plans. Due to our very extensive portoflio you can discover not only a wonderful, cosy or tradtionalFinca, but also a majestic estate or a beautiful house in an urbanisation.
There is something for every taste: Your home in the north-eastern part of Mallorca
If you would like to invest in an idyllic house or a Villa , the north-eastern region around Artà, Capdepera, Son severa or Manacor will certainly be of interest to you. Beyond the toursim scene, you can still discover the full beauty of the island. Versatile weekly markts, fresh fish and breath taking landscape with hills, rocks and lovely coves make the area between Artà, Manacor, Cala Millor and Porto Cristo into an ideal location. Idyllic beaches beckon to you to swim almost the entire year round. But if this should be too cold for you in the winter, you will certainly enjoy one of our properties with a heated pool. It is not uncommom for this to be standard in a magnificent estate. Even if you would prefer to buy a more refined house, the north -eastern part of Mallorca is an excelent choice. Small single-family homes, authentic fincas and impressive villas interact very well and ensure a motley mixture of residents.
Mallorca in its most beautiful form: Ideal to buy a finca
North-eastern Mallorca is known, among other things, for its still very original lifestyle and partially pristine nature. Due to its active landscape, you can encounter the goat and sheep herds in the far-flung hilly landscapes that of course cross the streets or go through the tried-and-true routes through the landscape. If the original authenticity of the region impresses you, its a good idea to buy a Finca. Owning a Finca even gives you the opportunity to authentically grow your own fruits and vegetabes.
Around Cala Ratjada, you will find some amazing fincas with sea views in absolute serenity and still in proximity to the pulsating action of the beautiful, small port city with many bars and restaurants. Lively activity predominates throughout the entire year. This is the perfect location for one`s own home for all of those who like things lively.
We offer you competent service
If you have decided to buy a uniqe property, you have com to the right place. You will get first-rate service form us - that extends from the first consultaion to support and handling of the purchase. If you would like to do more than buy a villa or finca and also plan to found a new company location, we can also recommend commercial properties und plots from our portfolio. Feel free to take a look at our references and contact us for an offer without obligation!